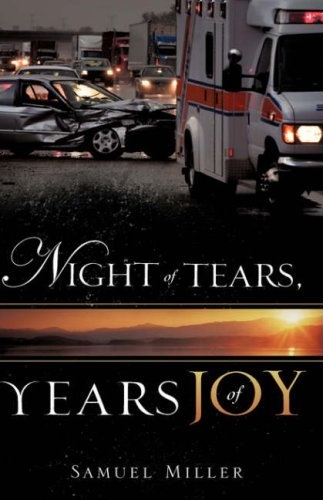 Can any good come from a head-on collision in a Volkswagen?
"Massive head injuries" seems like an inadequate description of author Samuel Miller's injuries on a fateful night on a North Carolina highway nearly four decades ago. And yet, looking back, it was a night of divine providence as the lives of five young men were mercifully spared.
The reader is invited to join the author on an emotional journey through a grueling ordeal that confronts an age-old question: Can God bring good out of tragedy?
Not allowed to look in a mirror due to the severity of his facial injuries, the author survives and embarks on a memorable voyage of lifelong ministry to those who are hurting. As Dr. Horace Ward points out in his foreword, "Samuel has been blessed with a powerful testimony and a fruitful ministry…Samuel has an experience worth telling, and he tells each word extremely well."

About the Author
Samuel Miller, author, son of South American missionaries, is a graduate of Cedarville College and Wright State University. An ordained minister since 1973, he is married to Connie, teacher and writer. Presently involved in evangelistic ministry, they pastored twenty-one years in West Virginia and Ohio. They are the parents of two sons, Jeff and Richard, both married.
Night of Tears, Years of Joy is now available
Night of Tears, Years of Joy, has just been released by Xulon Press. You can buy it online through Amazon.com, Barnes & Noble, Borders, and Target. Or you can order it directly from Xulon through their website, or by calling 1 (866) 909-BOOK.
The book is a revision and expansion of his original book, Night of Tears, published in 1978. Night of Tears told the story of his life-changing automobile accident in 1969 when he was 18 years old. Samuel wrote about his incredible testimony of God's keeping power during the ordeal and the subsequent recovery.
Now, nearly four decades later, the story still holds great value and inspiration for those facing difficult times. Beyond the original account, the new book includes "the rest of the story"–what has happened in his life since the first book was written, including miraculous manifestations of God's healing and His guiding hand in the orchestration of events.